Steel buildings… pre-engineered and conventional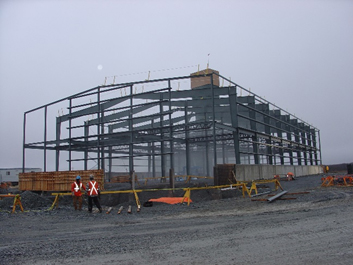 North West Installations is the largest turn-key builder of pre-engineered steel buildings in North-western Ontario. After erecting the steel framework, we continue our competitive approach by installing all the cladding, insulation, roofing, steel decking, doors and windows.

We are a dealer for "Steelway Building Systems" (a leader in pre-engineered steel building packages). Steelway Buildings offer a wide array of building systems to meet our clients building needs.
With over 30 years of "hands-on" building experience, North West Installations is a recognized leader of supply and construction of pre-engineered steel buildings in a wide variety sizes and applications.
No matter what your building requirements may be, from small warehousing to large scale industrial and commercial structures, you will discover that our steel building packages provide flexibility in design, reduced construction costs along with expedited completion schedules. As a facility owner this means you are "up and running" and realizing a return on your investment much sooner than with conventional construction methods.
We also extend the useful lifespan and decrease operating costs of older industrial and commercial steel buildings by increasing the R-value of existing roof and wall assemblies, or through complete retrofitting of roofs and walls. With the highly efficient life cycle costs of your steel building, your heating, cooling and building maintenance costs are greatly reduced providing you with greater long term operating efficiency – plus an enhanced resale value should you eventually sell your facility.
North West Installations can provide you with complete "Turn-Key" building solutions from design to occupancy for a wide range of facilities, including:
Aircraft Hangars
Sports Arenas
Agricultural Buildings
Trucking Industry Garages
Warehousing
Self Storage Facilities
Strip Malls and Retails Facilities
Schools
Riding Arenas
Automotive Sales / Repairs