Our Facility…15,000 Square foot shop on 4 acres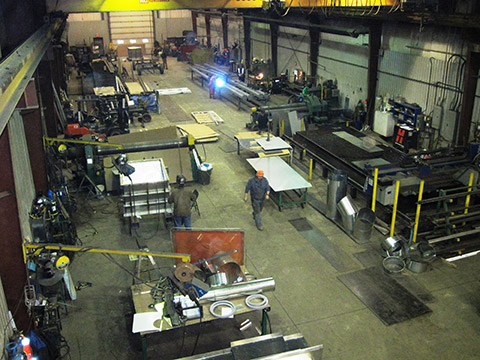 Following is a brief description of our fabrication facility and capabilities:
5 and 10 ton overhead bridge cranes.
400 ton hydraulic press brake – we can bend 1/2″ thick material x 10′ long.
10′ x 1/4″ Hydraulic shear.
Ironworker 1″ thick plate punching capacity.
Structural steel beam line CNC
5′ x 3/16″; 8′ x 1/2″; and 10′ x 1 1/4″ Plate rolls.
Plasma Cutting Table – can accommodate sheets up to 10′ x 20′ of mild steel, stainless steel or aluminum with a capacity up to 7″ thick mild steel and materials from gauge thickness up to 1.25″.
Mobile Plasma cutting machine.
Horizontal and vertical band saws.
Lock forming machine.
Assorted MIG and TIG welding machines and cut off saws
CWB Certified W47.1 Division 2.
Custom fabrication from the lightest gauge sheet metal to heavy plate and structural steel, stainless steel and aluminum. Including duct work, conveyors, chutes, hoppers, tanks, and much more.